On-Farm Key Learnings
Study Highlights Practices to Raise Soybean Yields
Soybean growers are striving for higher yields. The question is which management practices can help them raise yields. To find out, DuPont Pioneer agronomists evaluated intensive soybean management practices on farms in Nebraska, Kansas and western Missouri in 2013 and 2014. They gathered data from 457 locations where growers were producing high yields to learn which practices are contributing most to production increases.
Soybean aphid management. For an insecticide application to provide an economic benefit, it is recommended to treat only if populations exceed the economic threshold (ET). For soybean aphids, the ET is currently established at 250 aphids/plant (average of 20 to 30 plants/field) during the R1 to R5 growth stages. If this threshold is exceeded, treating within 7 days is required to prevent populations from reaching the Economic Injury Level (EIL) where yield loss exceeds the cost of treatment.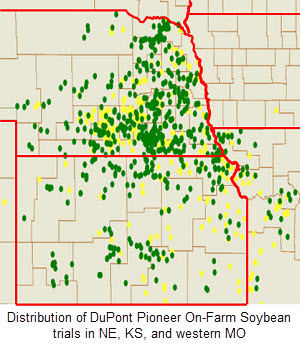 Here are the factors that helped boost yields in these fields.